Home > Gel Earpiece Inserts
Gel Ear Mould Insert Pricing
Quantity:
1 - 9
10 - 24
25 - 49
50+
Pink Large Left
£1.85 (Each)
£1.70 (Each)
£1.60 (Each)
£1.35 (Each)
Pink Large Right
£1.85 (Each)
£1.70 (Each)
£1.60 (Each)
£1.35 (Each)
Pink Medium Left
£1.85 (Each)
£1.70 (Each)
£1.60 (Each)
£1.35 (Each)
Pink Medium Right
£1.85 (Each)
£1.70 (Each)
£1.60 (Each)
£1.35 (Each)
Pink Small Left
£1.85 (Each)
£1.70 (Each)
£1.60 (Each)
£1.35 (Each)
Pink Small Right
£1.85 (Each)
£1.70 (Each)
£1.60 (Each)
£1.35 (Each)
BLACK MEDIUM LEFT
£1.95 (Each)
£1.80 (Each)
£1.70 (Each)
£1.45 (Each)
BLACK MEDIUM RIGHT
£1.95 (Each)
£1.80 (Each)
£1.70 (Each)
£1.45 (Each)
Standard Elbows (4 Pack)
£1.99 (Each)
£1.84 (Each)
£1.74 (Each)
£1.49 (Each)
Black Elbows (4 Pack)
£1.99 (Each)
£1.84 (Each)
£1.74 (Each)
£1.49 (Each)
Gel Ear Mould Insert
| | |
| --- | --- |
| | Soft Gel Ear Insert Pink or Black |
Got an Acoustic Tube Earpiece?
This Soft Gel Insert, fits into the accoustic tube useing your current "Elbow" Connector,
replacing the soft earbuds supplied with acoustic tube earpieces.
The Gel Insert fits snuggly into the ear  and allows the hearing of surrounding sounds.
You can even make and recieve telephone calls without removing the insert.
The soft gel earpieces snug fit makes it comfortable to wear and doesnt get pulled out easily.
Semi Clear Ear Inserts are made in Large, Medium and Small
Black Inserts Medium only.
 Left or Right Ear.

In most applications medium will suffice.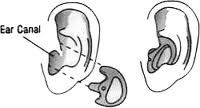 Small, Medium
Large

MEDIUM
ONLY 

Spare Elbow
Clear or Black

 Example: When Completed
(Acoustic Tube Not Included)
Not quite what you were looking for ?
Check out our other audio accessories
HERE